Explore untouched nature of Herzegovina's mountains. Čabulja Mountain is situated 20 km north-west from Mostar. Even though it doesn't have the height of other mountains in Herzegovina it still hides special beauty with breathtaking views. It has an altitude of 1,786 metres at its highest peak "Velika Vlajina", which is overseeing beautiful surrounding canyons from its east side and green distant valleys on the west.
Hike to the summit of Velika Vlajna on Čabulja mountain on this full-day tour. Enjoy round-trip transport from Mostar, then set out on a guided easy-to-moderate hike through the mountains. Along the way, enjoy stunning views over the Drežanka river canyon, and stop to take photos at Gondusa Lake and Kilava Bukva.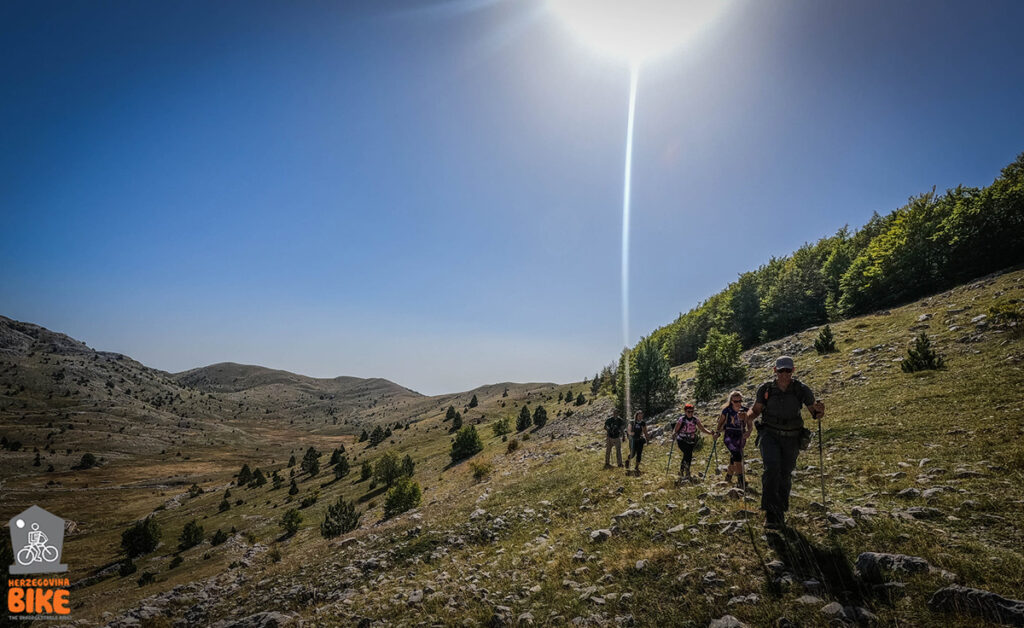 Čabulja mountain is next to Velež, a mountain whose slopes are around Mostar, and its highest peak is Velika Vlajna 1780 m above sea level. The hiking trail is the final stage of the Highland Herzegovinian transversal (KT 21). The starting point for our ascent to Velika Vlajna is from Bogodol 840 m above sea level, 20 km west of Mostar on the local asphalt road. Bogodol can be reached by asphalt road from the direction of Široki Brijeg or Mostar.
After about 5,5 km of a light climb to 1430 m, there is an artificial lake Gonđuša from where we begin a steeper climb, first through the beech forest and then a lowland rocky area. From the top is a magnificent view of the Drežanka river canyon. An alternative to shortening the trail is to pass another 3 km by the asphalt road from Bogodol, and turn to a solid road of 3,5 km length.
A very interesting hiking tour on Mount Čabulja with a stunning view from the top, and 1500-meter-high cliffs overlooking the Drežnica canyon. An experience that will leave you breathless.