At first glance at the photos of a specially arranged barrel in nature, we knew we wanted to know something more about this original idea that combines relaxation, the beauty of BiH and the #madeinbih label into one story.
That is why, in a conversation with Vedran Miletić, we learned all about accommodation in a barrel in Blidinje, which creates a special experience for each visitor.
Through the conversation, Vedran revealed details about the very beginning of the realization of the Barrel Land story and how the idea for the construction of accommodation in a barrel in Blidinje came about. He also shared with us how the process went from the first board to the current unique accommodation, where they found inspiration, as well as who is behind the design and final production.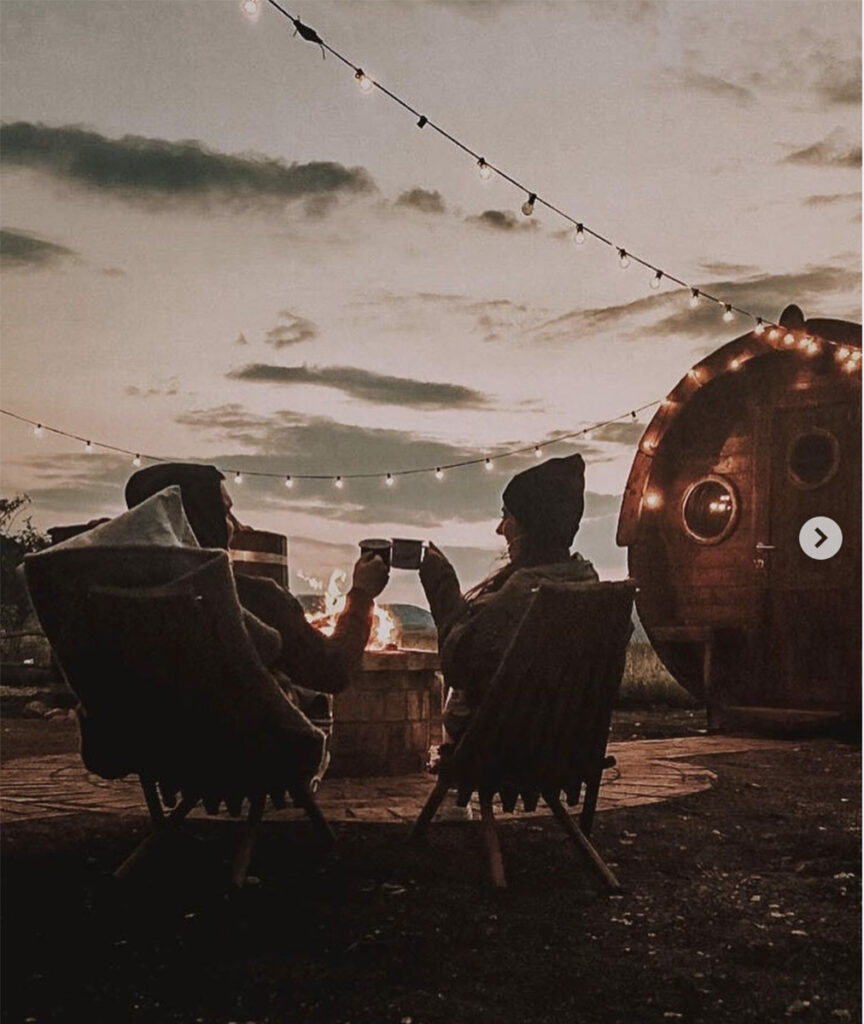 He also revealed to us what awaits us in this accommodation, but also singled out additional reasons why you will want to book your appointment for a visit to this new magical place tomorrow.
Find out his answers and more details below.
First of all, tell us where the idea for this unique accommodation came from and why Blidinje?
The idea of making a barrel has been "rolling" for a couple of years, where at one gathering we presented the idea to friends who are so ridiculed, it's great, but you do it? Come on … "and partly because of that, this project succeeded. Our desire to learn and the dose of creativity that runs through the work we do combined with a dose of defiance and perseverance gave us one small, most unique, house that we are very proud of!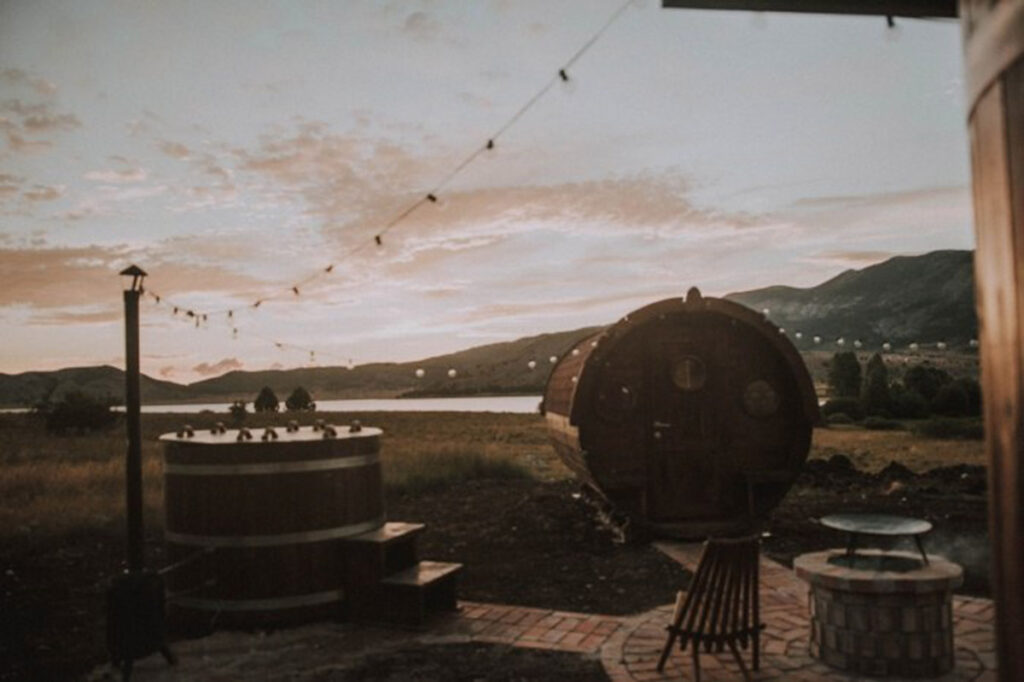 Blidinje as a nature park, which has a developed summer and winter season, a lot of promenades, a lake, a developed gastronomic offer and other tourist attractions was the only logical choice. Since the barrel can be tied to wine and wine offer in Herzegovina, we realized that Blidinje is a great location for our project.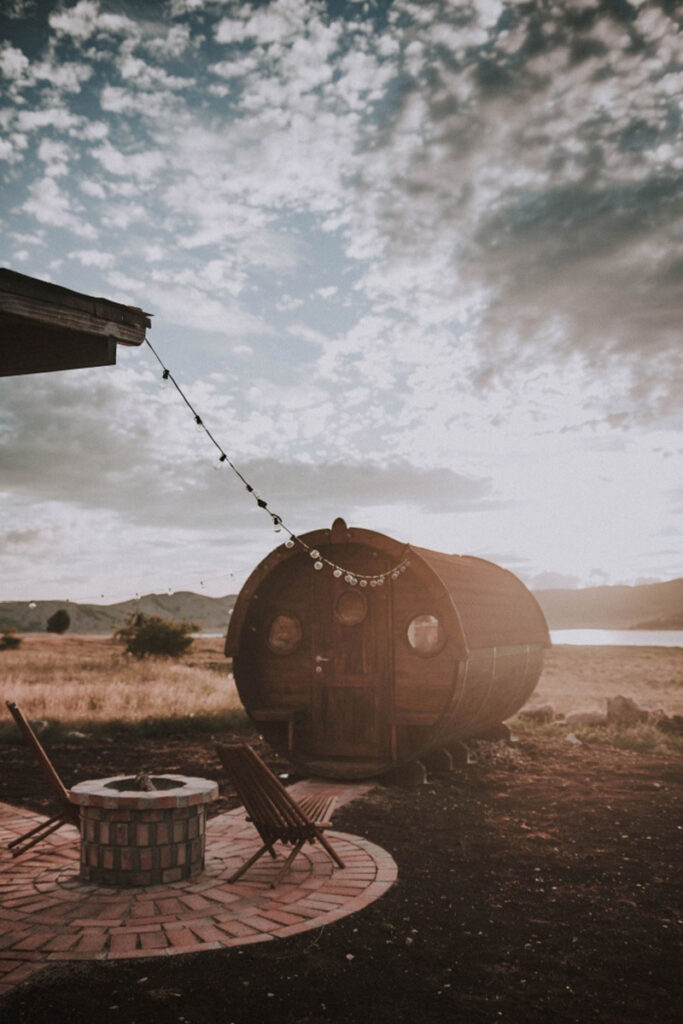 We are currently making sketches and plans to make the next unique accommodation so we ask your readers what they would like to see? A unique tree house, a hobbit house or a frame?
How did the preparation process go and who is responsible for the final production and design?
We did the complete design, development and project management ourselves. The whole process of making took a little over a year, and it started by ordering wood for making which we cut, processed, dried ourselves in order to get boards suitable for making barrels.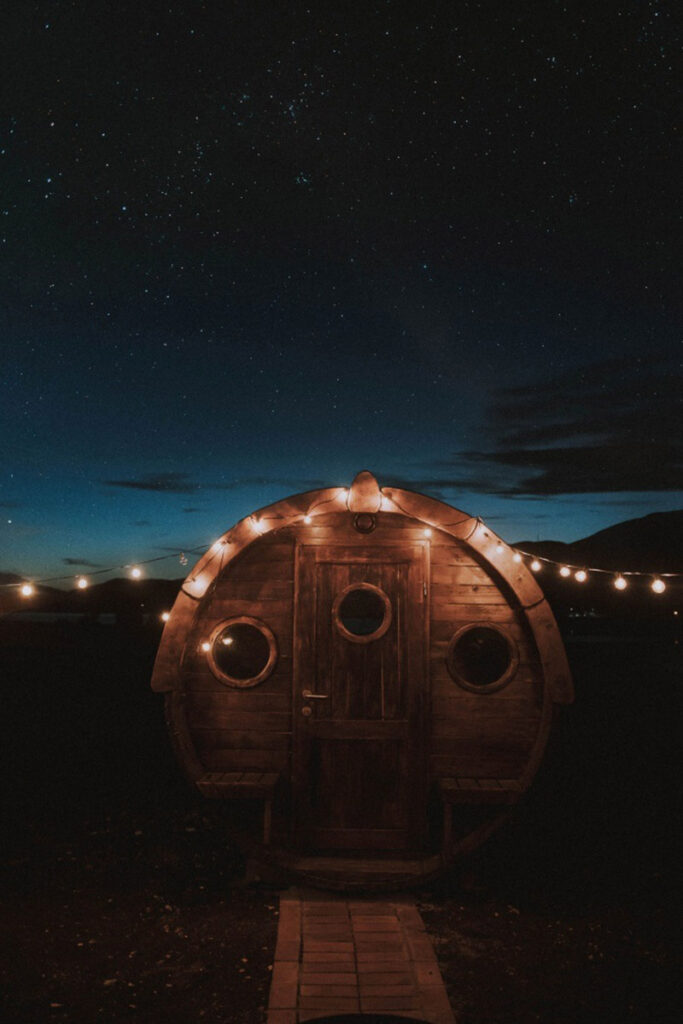 There were a lot of challenges during the production, both of a technical nature and those difficult moments due to time, fatigue and the like, it may be worth noting that during the production we devised the way of joining, ie we made our own knives for woodworking, / to heat the barrel, we made our own wood stove for heating the jacuzzi etc … etc .. Basically the whole making was one big experience in which we also grew and developed our skills.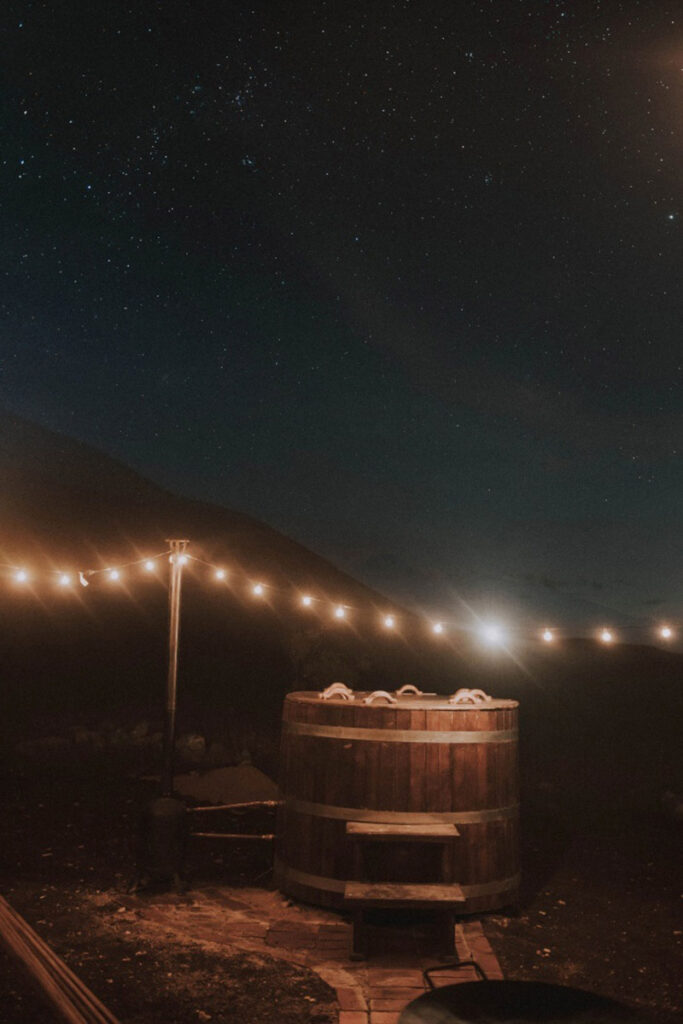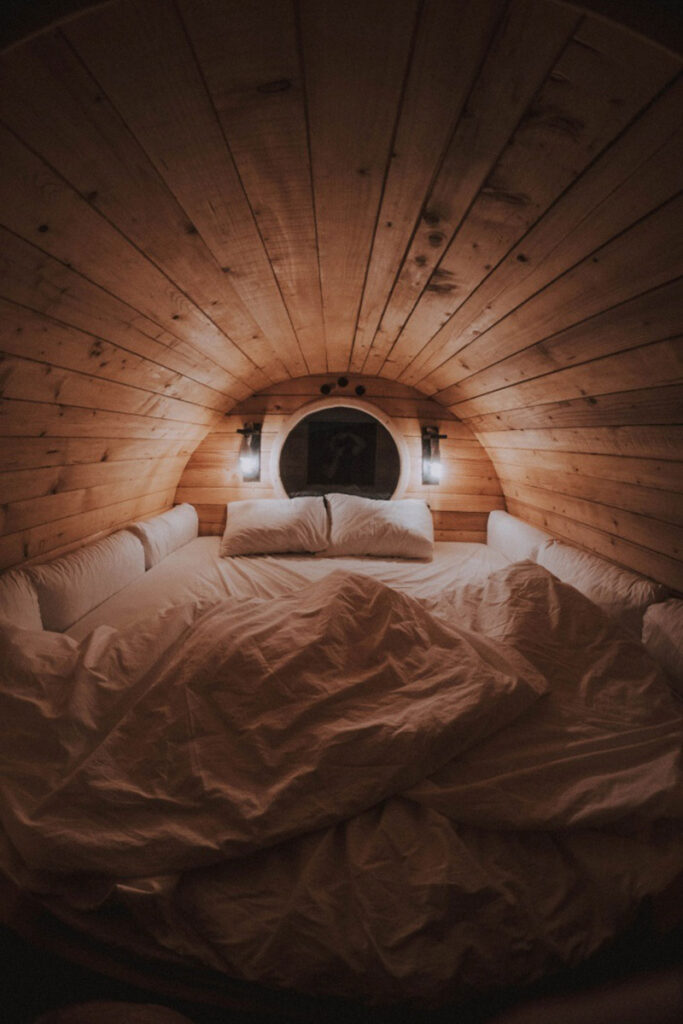 Frano Šarić is one of the people behind this project. He was born in Solin, but with his current residence in Široki Brijeg, he finished high school and is currently in the 5th year at the Faculty of Mechanical Engineering, Computer Science and Electronics at the University of Mostar, majoring in Software Engineering. In his free time, he plays sports and plays in the tamburitza ensemble "Štim".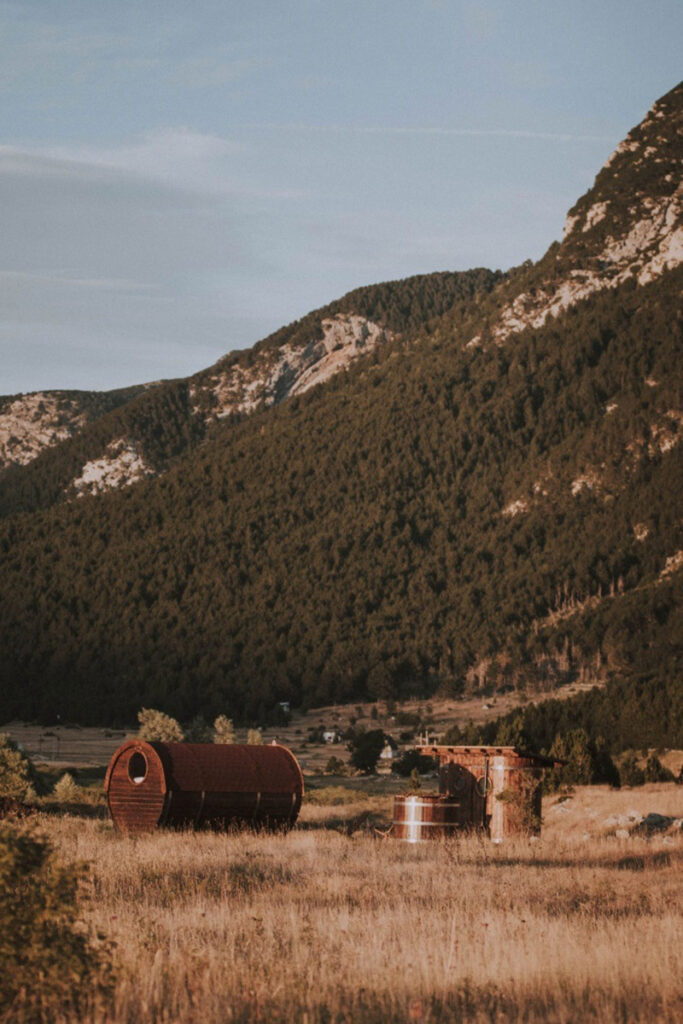 My name is Vedran Miletić, born in Kiseljak where I finished high school in Economics and continued my studies in Mostar and I enrolled in the same faculty as Frano, we met in the first year and since then we have embarked on a small expedition to the impossible. In my free time I do photography mainly as a wedding photographer, I had a couple of Origami exhibitions in the period before college, I like to play with technology and so photo booths were created, where I gathered enough experience to start a project.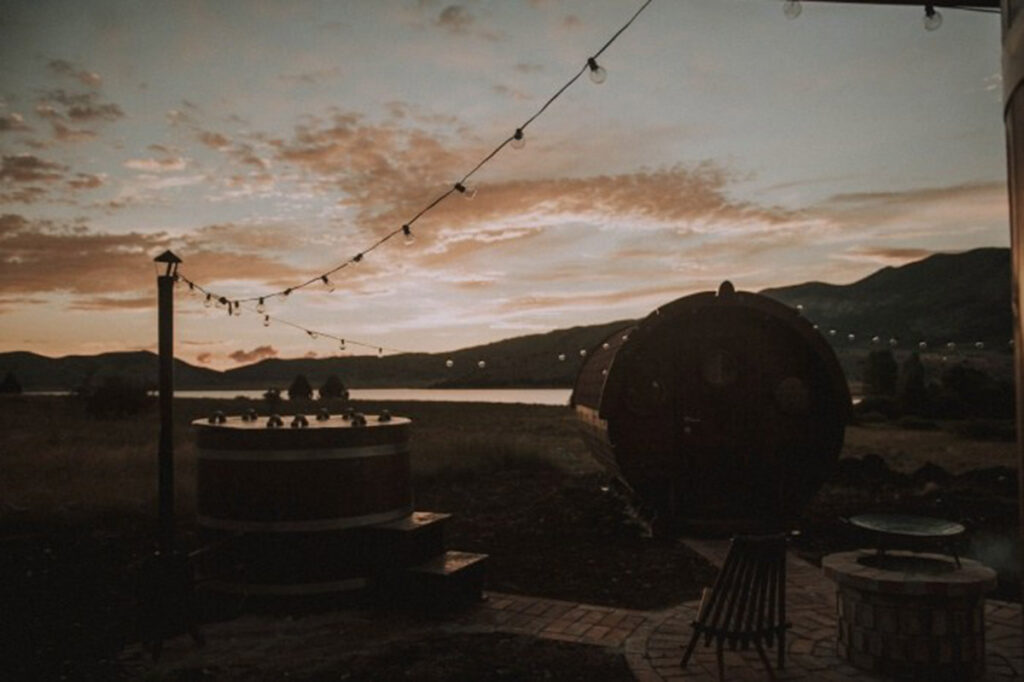 What I would like to emphasize is that we really care that we have as little impact on the environment as possible. Only natural materials were used in the production, we use a small solar system, all waste is stored properly, and a place for a barbecue that we have where the fire is lit in controlled conditions to prevent fires and the like.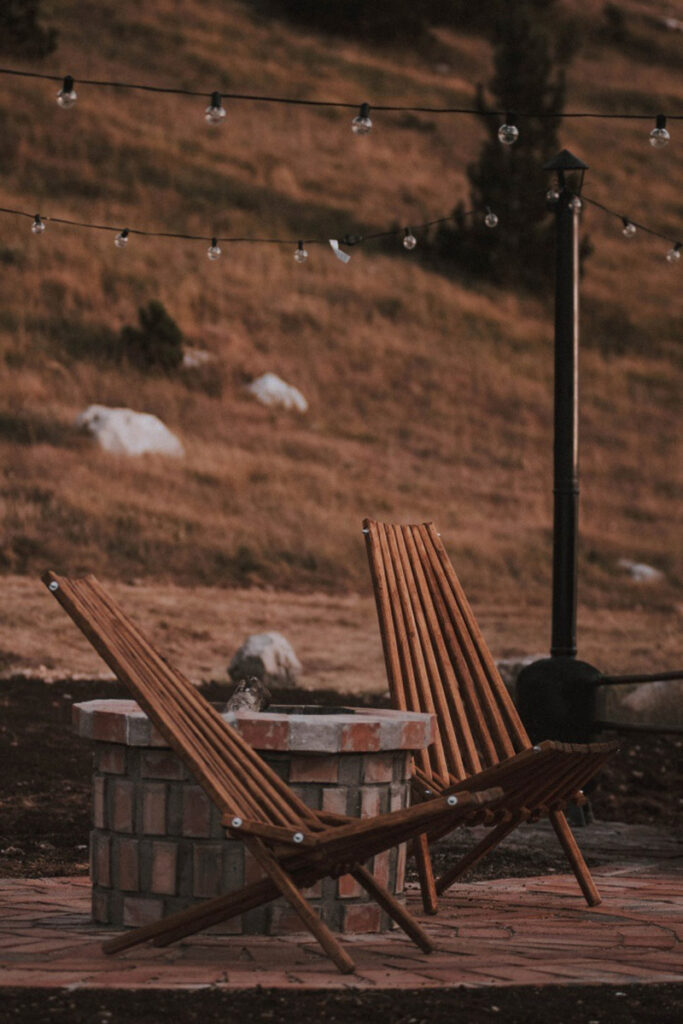 We care about preserving the environment, but at the same time creating a place to enjoy and relax and connect man and nature.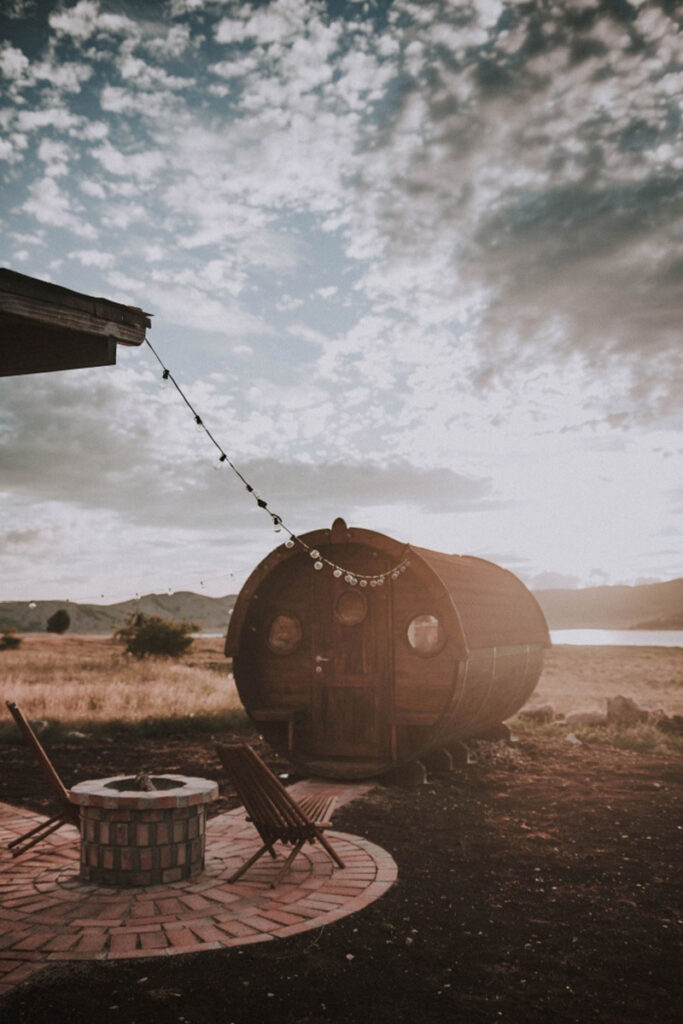 We noticed that you have included relaxing in the jacuzzi in the accommodation. What other content awaits us in the Barrel Land barrel?
We didn't want our project to be "another in a row", we wanted to offer a dose more. That dose was no longer an option for us, which was added later, but we knew right from the start what we wanted, the only thing left was what we wanted to add.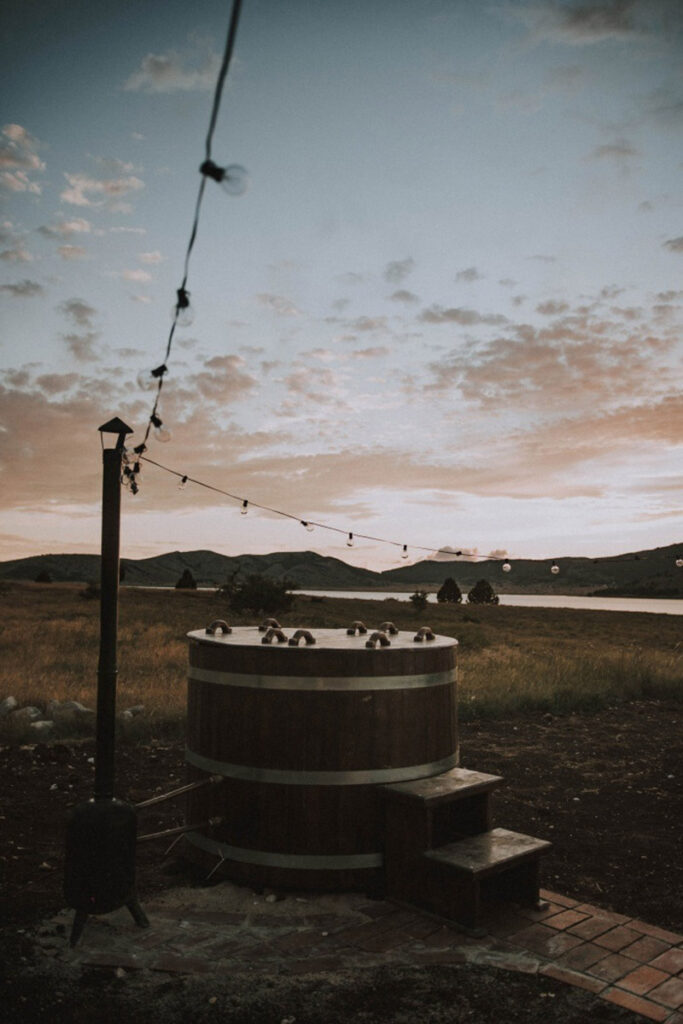 The jacuzzi came quite by accident where in some independent conversation that ended up on the barrel again, we came up with the idea to insert a wooden jacuzzi and it was a great idea, but it was just an idea. There was a lot of research ahead of us on how to make a wooden jacuzzi (DIY variant but more DIY) where we spent a couple of days gathering information, sketching, thinking and finally we started making a jacuzzi which gave us the most problems.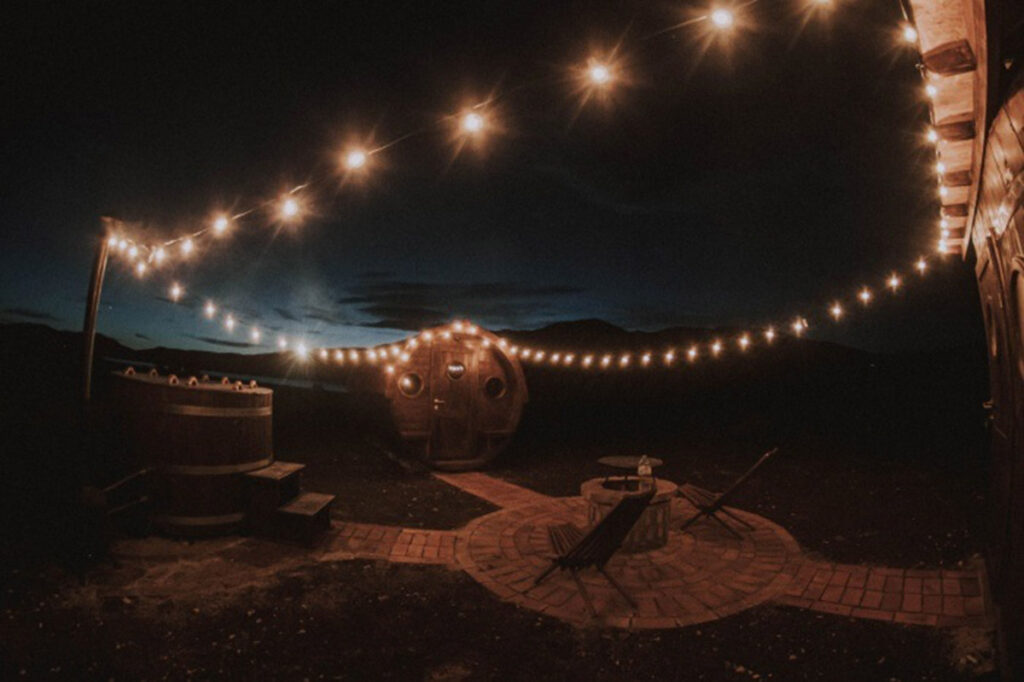 But what is sure to be the experience you get when you sit in the jacuzzi with your loved one with a glass of wine and a view of the lake is an experience that will be remembered forever, and that's exactly what we wanted!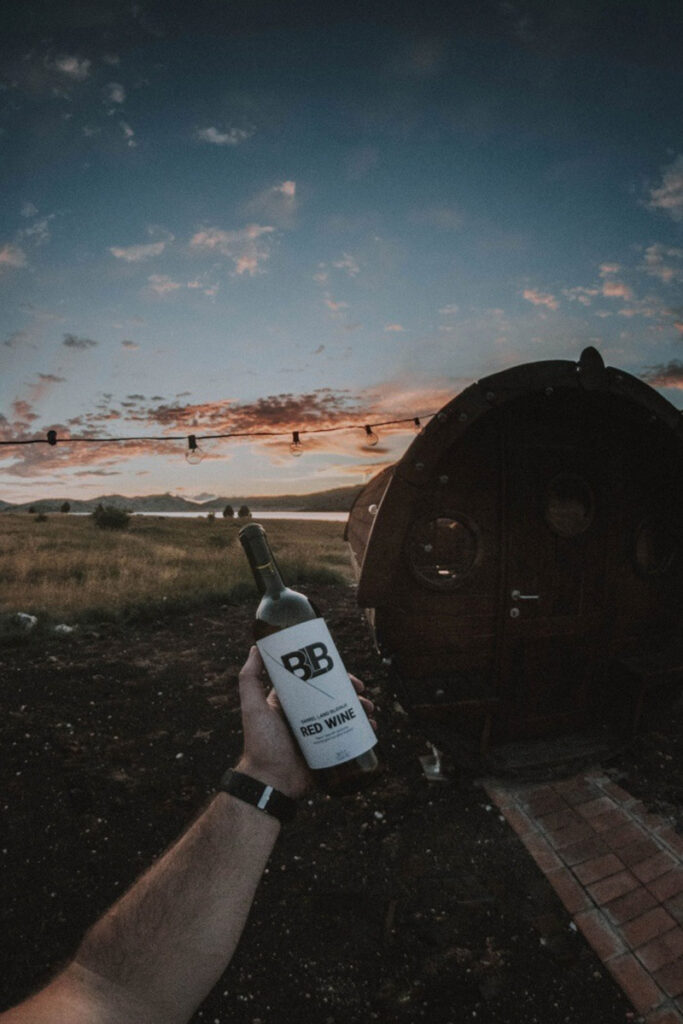 Barrel Land Blidinje currently offers not only a unique jacuzzi but also a place for barbecue and socializing, a hammock with a view that rests the eyes and soul and of course sleeping in a barrel. Also, each of our guests receives a bottle of homemade wine as well as a surprise gift with products from local producers.
"The whole idea of making it came down to this: We don't offer accommodation, we offer the experience of sleeping in a barrel."
Next year we plan to do a lot of new projects involving singers, chefs and maybe even a Bonjour show with them? Who knows. We hope that we will find a sponsor who will "push" these and similar projects in order to show the whole world what all Blidinje and Bosnia and Herzegovina can offer!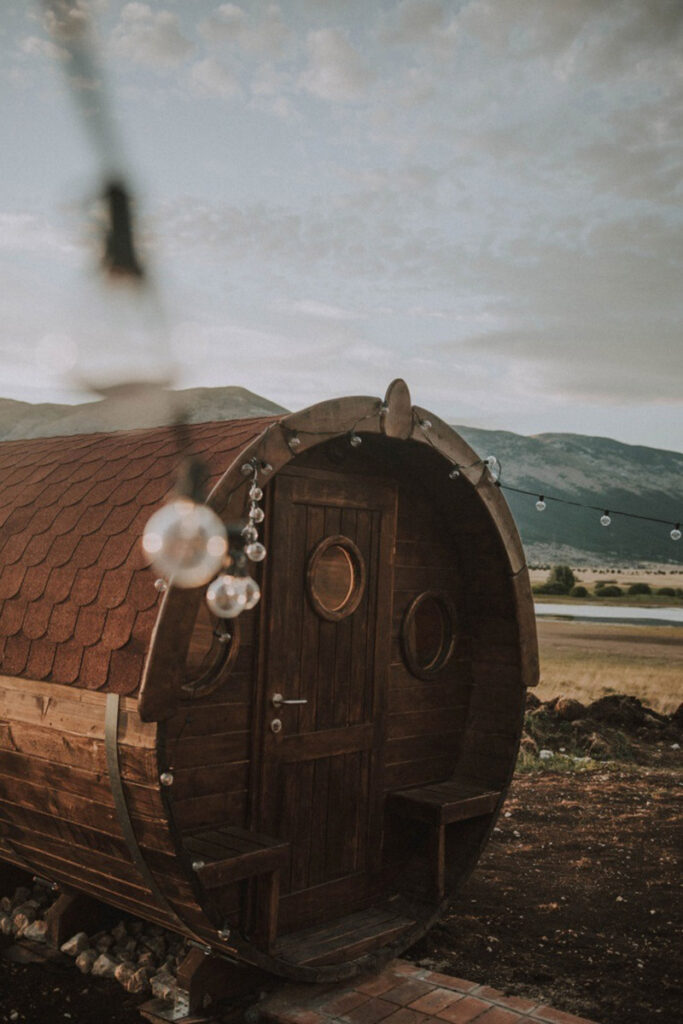 How can we book accommodation in this unique barrel?
All detailed information and reservations are made through Instagram profiles, with the beginning of next year will be ready website, but also posts on popular booking sites.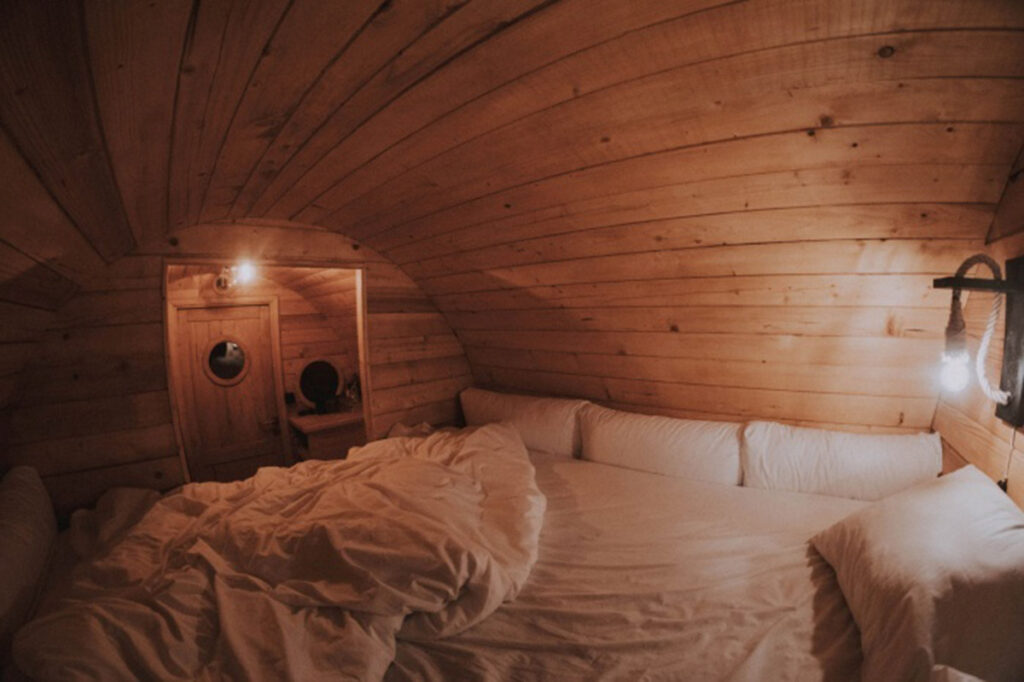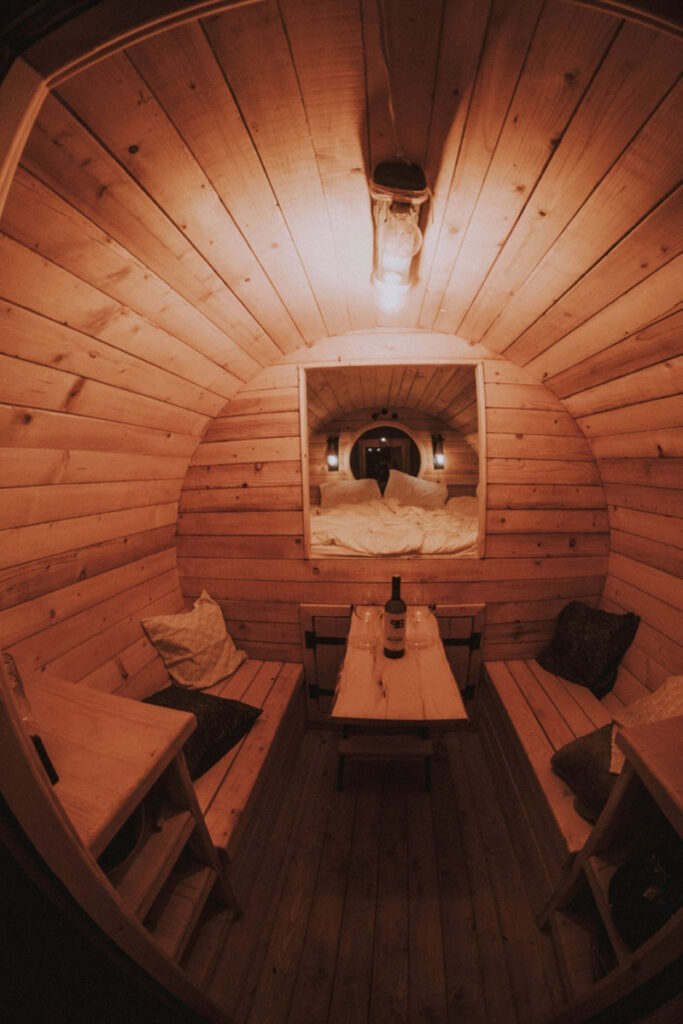 We are currently nearing the end of the season as we will only be working until 25.10. We will not be working in the winter for the first year, we need to make sure of the safety aspects for our guests since the snowfall can be very large, but with the arrival of spring we are waiting for you at the most unique accommodation in BiH!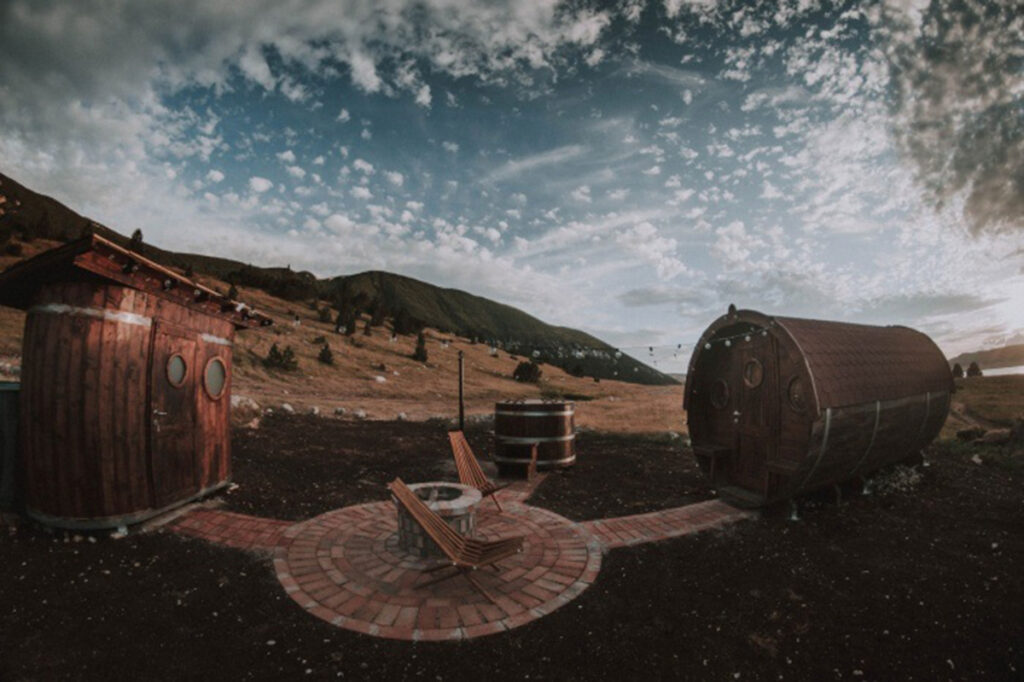 Foto: @barrelland.blidinje
Tekst: Marija Perić/Bonjour.ba